Instant Fat Filled Milk Powder
Instant Fat Filled Milk powder is a blend of high-quality skim milk powder spray dried with edible vegetable fat. The general composition, appearance, characteristics and intended uses are similar to Instant Full Cream Milk, however the economic price point compared to whole milk has been a prominent factor accounting for the growing popularity of fat filled milk powder.
Our Fat Filled milk powder is produced at modern plants in Europe and Oceania, from fresh milk obtained from pasture grazed cows predominantly fed on natural grass-based diets.
Endowed with superior dispersibility and wettability properties fat filled milk powder is ideal for reconstitution with cold or hot water to make a delicious, nutritious and convenient liquid milk drink / Yoghurt at home or for use as a manufacturing ingredient.
Instant Fat Filled Milk Powder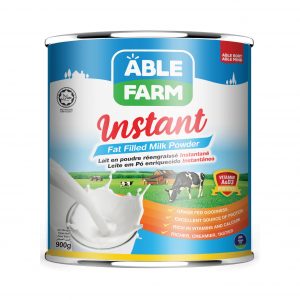 Product Characteristics:
Superior dispersibility & wettability
Rich & Creamy Flavour
Exceptional flowability
Versions available
28% Fat / 24% Protein
28% Fat / 19% Protein
33% Fat / 11% Protein
New Zealand, South America, Europe
Available Formats & Sizes
| | | | | |
| --- | --- | --- | --- | --- |
| Single Serve | Soft Pack | Bag in Box (BIB) | Tin Can | Bulk Bag |
| 10gm – 30gm | 200gm – 2.5kg | 200gm – 500gm | 400gm, 900gm, 1.8kg, 2.25kg, 2.5kg | 25Kg multi-wall bag with inner plastic lining |
For Product Specifications and more information, please reach out to our team at export@ablefood.asia and we shall be glad to assist.