An excellent source of protein and calcium, our Skim Milk Powder is fat free milk that has been dried to a fine powder by removing water from pasteurized skim milk, it contains 5% or less moisture (by weight) and 1.5% or less milkfat (by weight) and a minimum milk protein content of 34%.
Skim milk powder being low in fat and calories content is a product of choice for those trying to lose or maintain weight. It is a rich source of complete proteins, which helps in building and maintaining lean muscles and is also the richest source of calcium among other milk powders.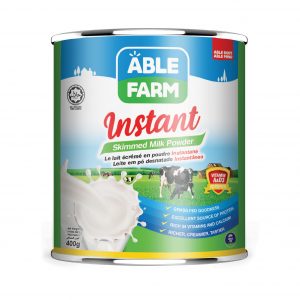 Product Characteristics:
Excellent Solubility & dispersibility
Low Fat Content
Clean Flavour
Versions available
Regular Skimmed Milk Powder
Instant Skimmed Milk Powder
Low/ Medium/ High Heat
New Zealand, South America, Europe
Available Formats & Sizes
| | | | | |
| --- | --- | --- | --- | --- |
| Single Serve | Soft Pack | Bag in Box (BIB) | Tin Can | Bulk Bag |
| 10gm – 30gm | 200gm – 2.5kg | 200gm – 500gm | 400gm, 900gm, 1.8kg, 2.25kg, 2.5kg | 25Kg multi-wall bag with inner plastic lining |
For Product Specifications and more information, please reach out to our team at export@ablefood.asia and we shall be glad to assist.